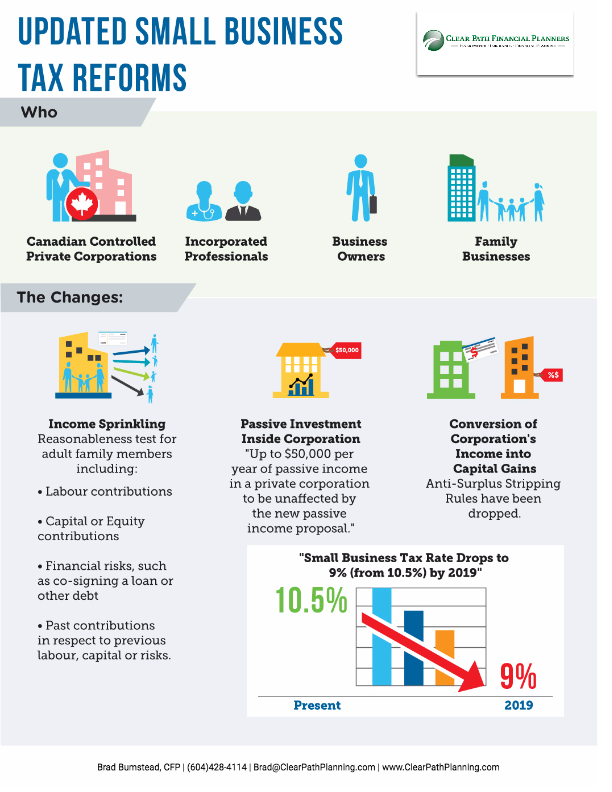 It has certainly been a busy week in terms of announcements regarding financial policies for small businesses. Following the series of proposed tax reforms that the government announced back in July, various tweaks and changes have subsequently been made, owing, perhaps in part, to confusion and frustration expressed among the small business community. This week Finance Minister, Bill Morneau, has made further clarifications and adjustments to his original set of proposals, aiming to bring more of a sense of balance to the plans. Like all policy changes, the detail can be a little overwhelming, so here is a summary of the key points for your reference:
The government intends to honor a commitment made prior to the election, to reduce the small business tax rate from 10.5% to 9% by the year 2019.
Morneau confirmed that the government has scrapped the proposal to limit access to the Lifetime Capital Gains Exemption.
The plans announced earlier in the year to reduce the value of passive investments made by corporations will continue in principle, but with few key changes. There will be a threshold of $50,000 of income per year, which will be excluded from the newly set higher rate of tax.
The government has agreed to "simplify" the rules related to the new plans, to prevent income splitting for family members, who are not active in a business, but the plan will still move ahead in principle.
Morneau has confirmed that the government will still provide good entrepreneurial incentives for venture capitalists and angel investors. The criteria for which still needs to be established.
The proposed rules to limit the conversion of income to capital gains have been abandoned due to the concerns that many related to intergenerational transfers and insurance policies were held inside corporations.
Of course, this is one area of government policy which is not only constantly changing, but particularly controversial in the current climate, so keep yourself updated regularly on new announcements and news, to ensure your understanding in this area and its potential impact on your family and business. If you have any questions, please talk to us.